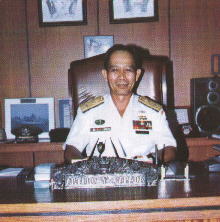 Commo. Arturo Y. Capada, AFP (Ret.)
On February 5, 1998, the 109th PCGA Squadron was activated by then Commodore Arturo Y. Capada, AFP. Headed by Captain Virgilio Cloma as squadron commander, the 109th Squadron started with 23 members. At the moment, the squadron has more than a hundred members dedicated to pursue the purpose of the PCGA. After only more than a year of existence, the 109th PCGA Squadron has accomplished several projects thereby achieving the goals for which it was created.

With the support of the PCGA national leadership, the squadron is looking forward in making it one of the best, if not the best squadron of the Philippine Coast Guard Auxiliary.